Monday, May 25, 2015 | Posted by kara-karina@Nocturnal Book Reviews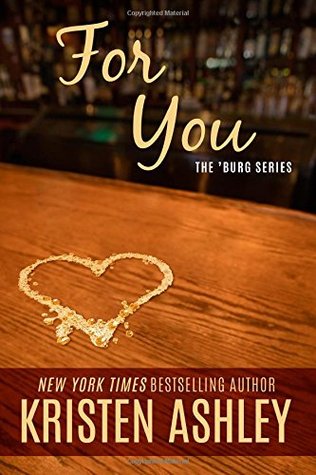 For You by Kristen Ashley (The "Burg" #1)
Audiocopy courtesy of Audible US
Synopsis from Goodreads
Lieutenant Alexander Colton and February Owens were high school sweethearts. Everyone in their small town knew from the moment they met they were meant for each other. But something happened and Feb broke Colt's heart then she turned wild and tragedy struck. Colt meted out revenge against the man who brought Feb low but even though Colt risked it all for her, Feb turned her back on him and left town.

Fifteen years later, Feb comes back to help run the family bar. But there's so much water under the bridge separating her and Colt everyone knows they'll never get back together.

Until someone starts hacking up people in Feb's life. Colt is still Colt and Feb is still Feb so the town watches as Colt goes all out to find the murderer while trying to keep Feb safe.

As the bodies pile up, The Feds move in and a twisting, turning story unravels exposing a very sick man who has claimed numerous victims along the way, Feb and Colt battle their enduring attraction and the beautiful but lost history that weaves them together.
 Amazon US | Amazon kindle US/UK | Audible US/UK
8/10
F

or You is an interesting concept. I've never read Kristen Ashley before, but I understand the appeal now.
Miss Ashley describes small towns and characters who led rich & complicated lives. The suspense is a huge and surprisingly vivid bonus.
Tags:
8/10
,
kristen ashley
,
romantic suspense
,
детектив
,
кристен эшли
,
роман
GFC Followers
GFC Widget stopped showing or appears only on special occasions on many blogspot blogs since the beginning of March 2012, but you can still subscribe to my GFC
HERE
. Thank you!

networked blogs

BLOG ARCHIVE

KARINA IS READING

Vika is reading

A Token of Appreciation
Just a little note to you all,our dear readers!
If any of you desire to show your support to this blog you can donate through Paypal to
chai_s_calinoi at yahoo dot co dot uk
or buy a book through any of these links
The Book Depository
UK
/
US
,
Amazon
UK
/
US
which will send us a small percentage from the sale. All proceeds will go towards the international giveaways here on NBR.
Thank you!


Blog Stats since May 2011
Noteworthy Blogs